To All Authorized Members,
As I am writing this letter, HMI has just closed out the third quarter of 2023 having completed more emergency tree removal assignments in nine months than in any full year prior.  To accomplish this in a year without a single major hurricane event (so far) is really extraordinary and the result of increasing utilization of HMI's services by our clients.  This trend is, again, a testament to the high-quality product that HMI, together with the tree care professionals in our network, provide to homeowners every day.  This year will likely be remembered as the year that HMI's network truly separated itself from all other first responder programs by offering our clients the best service available in the industry, and at the right price.
Not surprisingly, HMI is also receiving more requests from tree care companies to join our network than ever before.  We have increased the number of Authorized Members (AMs) in our network by almost 25% this year.  This growth has enabled us to expand the geographic area that we service, and we have also added capacity in several key markets around the country.  The growth in our network couldn't have come at a better time given the volume of work we've been processing and the growth we expect in 2024.  HMI is currently in advanced discussions with four potential new clients for our emergency tree removal service.  Three of them are top 10 residential insurance carriers.  If you were pleased with the value you received from your membership in HMI's network this year, I believe you will be even more so next year.
I hope everyone reading my letter has taken the opportunity to download HMI Connects, our newly improved mobile app.  HMI's developers recently released a final version of the app that has been getting high marks from the field.  Our AMs are reporting much faster download and upload speeds when compared with the previous app.  As you know, we are always asking for more/better photos and quicker updates on open files in the RMS.  The mobile app is the only way to efficiently collect the necessary data on an HMI assignment and quickly upload it to the RMS.  We will continue investing in mobile technology to ensure you have the most efficient way to process all HMI referrals.
If you haven't already downloaded HMI Connects, please do so.  While the 2023 hurricane season has yet to generate a major storm event for us, we are now heading into another typically active time of year.  In late fall, HMI starts watching for weather patterns that may generate early snow or ice storms, or nor'easters, all of which have in the past generated a high volume of work for our network.  Based on how 2023 has played out so far, everyone at HMI is expecting Mother Nature to deliver at least one more blow before year end.
Lastly, I hope to see everyone at the TCIA Expo in St. Louis this week.  If you are attending, please stop by our booth (#1817) and pick up a special gift for all Authorized Members commemorating HMI's 20th Anniversary. Also, be sure to block off Friday night from 5:00 to 8:00 p.m., and join the HMI team at our happy hour being held at the Budweiser Brew House in the Ballpark Village, a short 10-minute walk from the convention center.  We all have a lot to celebrate this year!
Thank you all.  Stay safe!
Regards,

Doug Cowles
President, Horticultural Asset Management, Inc.
Fifteen years ago, I penned a brief article on Nyssa for HMI's TreeTalk™ publication. The present discussion expands significantly on that information and discusses the advances in Nyssa selection, evaluation, and production techniques.
Recently, I was asked what I thought of Nyssa sylvatica as a replacement for Acer rubrum by Nate Nix, sales arborist, Monster Tree Service in Athens, Georgia. The company has worked with me and offers quality work at a fair price. Nate said a local Athens residential, golf, and tennis complex, wanted to install 1,250 Nyssa sylvatica to replace the red maples that have languished.  I become apoplectic when one monoculture is being replaced by another. The heartbreaker was the proposal to use a single Nyssa sylvatica cultivar. I asked Nate about at least mixing cultivars and told him I would review what I consider the best selections.
In 2019, I was involved in tree selections for our Oconee County, Georgia, four-lane connector project. We planted 761 trees along the 3.5-mile length. Over half were Quercus species. Twenty-one Nyssa were installed, all seedlings, with rag-tag, motley habits, variable fall color, and tardy recovery after transplanting. More on this project in a future article.
The local Lowe's replaced the parking lot trees with an avenue of seedling N. sylvatica. The variation in habits and fall colors from perpetually green to brilliant orange-red speaks to the need for clonal selections. On the University of Georgia campus, a uniformly branched female seedling tree with lustrous dark green leaves, consistent brilliant red-maroon fall color, and lack of leaf spot caught my eye.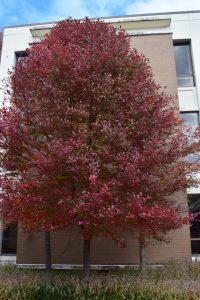 Hidden Hollow Nursery, Belvidere, Tennessee, budded it and I added one to the garden. The first year it contracted leafspot and now in the third year, I hope for better results. My most recent discovery of a unique Nyssa sylvatica occurred in June 2022, during a conference at Mount Vernon, Virginia.  This female specimen is distinctly conical pyramidal in habit and the foliage lustrous dark green. Currently it is being propagated by Hidden Hollow Nursery and Moon's Tree Farm in Washington, Georgia. If worthy of introduction, it will prove a great street and garden addition where lateral space is limited. I should add that George Washington planted the species on the estate.
Most landscape architects, designers, and gardeners know little about Nyssa sylvatica, having been brainwashed by red maple ideology. There are eight Nyssa species worldwide, with N. sylvatica the best known and most important shade and ornamental species in North America. The species is native to Canada, Maine to Florida, west to Wisconsin, Michigan and Texas, in dry to moist habitats, including standing water. I have recorded trees in dry/rocky soil on Whiteside Mountain, North Carolina at 4,000 to 5,000' elevation. In our Bogart, Georgia, garden, a 60' tall female tree spreads seedlings through the 3.5 acres. I purchased the contiguous lot to preserve this magnificent 4-trunked work of art.
Nyssa sylvatica has received greater attention from nurseries with over 30 selections (see list below). Twenty years past there were less than 10 and few were commercially available. A major west coast nursery told me they could sell greater numbers, but propagation was more difficult than, for example, red maple. Nyssa sylvatica does not root from cuttings or, to my knowledge, respond to tissue culture. Winter grafting and summer budding work well. I have grown many seedlings by collecting the blue-black fruits in fall, removing pulp, floating seeds to determine viability (sinkers sound/viable), providing 90 days cold-moist stratification, often with germination (root radicle) in the cold.
The principal tree genera in nursery production in the U.S. in order of importance/numbers are Acer, Malus, Quercus, Ulmus, Cercis, Amelanchier, Tilia, Zelkova, Gleditsia, Gymnocladus, Prunus, Nyssa and Pyrus. Pyrus is on the way out due to non-native status and invasiveness. It is banned, or in the process, in several states including Ohio, Pennsylvania, and South Carolina. Fraxinus, ash, is not listed above as Emerald Ash Borer (EAB) rendered it a nonentity. Before EAB, the genus ranked with maple and oak in nursery sales.
Nyssa will continue to ascend commercially as new and better selections appear. Michael Hayman is assembling a collection of Nyssa sylvatica cultivars in Louisville, Kentucky. Mike is committed to building a genetic repository useful for evaluating cultivar performance and future breeding. His commentary on cultivars is presented below. The U.S. National Arboretum has been breeding Nyssa species for many years and has yet to release a selection. I visited the USDA's National Germplasm Resources Laboratory in Beltsville, Maryland, where hybrids of N sylvatica × N. sinensis and N. sylvatica × N. ogeche were being screened for leaf spot, canker, and leaf miner resistance. I grew N. ogeche, N. sinensis, and N. biflora; none possessing the quality attributes of N. sylvatica.
Habit, foliage, flowers, fruits, buds & bark
Habit is pyramidal in youth with open to densely set branches some of which are pendulous. At maturity, the horizontal branches form an irregularly rounded or flat-topped crown. The secondary branches are populated with numerous short branch spurs making pruning/climbing somewhat of an adventure. Occasionally, the lower branches, reminiscent of pin oak, sweep the ground, not exactly constituting a viable candidate for street tree use. Newer introductions like Forest Fire®, Green Gable®, Red Splyndor®, and Tupelo Tower™ develop upswept lower branches. Under landscape conditions, I estimate 30 to 50' (60') in height and 20 to 30' (40') in width. In our garden, there is a 60' tall and 40' wide, four trunked specimen. The National Champion is 78' high, 95' wide, with trunk circumference of 247".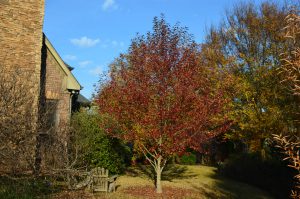 Foliage emerges later than many oaks, maples, elms, planetrees and is not fully developed until mid-May on the tupelos in the Dirr garden. Leaves range from flat/dull/matte to glossy dark green, developing fluorescent fall colors of yellow, orange, red, maroon and purple; often a kaleidoscopic mix. Without equivocation, one of America's most consistent, beautiful trees in autumn. Leaves range in size from 3 to 6" long, 11/2 to 3" wide with entire margins, except for occasional mini lobes/teeth at the terminal, and the extended terminal apex. A fungus, Mycosphaerella nyssacola, produces black lesions on the foliage which cause premature defoliation in September-October.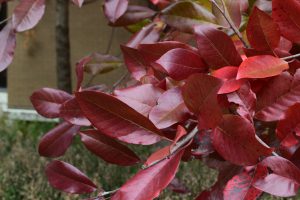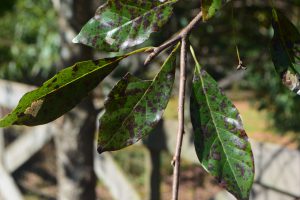 Appears more problematic in the southeast for cultivars like Afterburner™ are completely defoliated in the Dirr garden yet untouched in Mike Hayman's Louisville trials. Red Rage™, a Hayman selection, and 'Wildfire', Steve Hottovy selection, are the most resistant in the Athens area. The disease is variable from year to year. In 2017, Green Gable® developed magnificent red fall color. In 2021, the same tree in our garden lost most leaves and those remaining did not color.
Flowers are polygamo-dioecious: bisexual (male and female parts in the same structure) and/or dioecious (male or female flowers on separate trees). Flowers open with the spring foliage; yellow-green male in many flowered rounded inflorescences;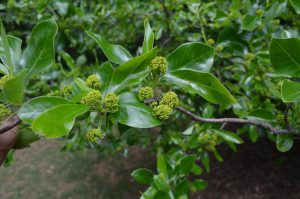 female in 2 to 4 peduncled axillary clusters. Bees are particularly fond of the flowers for nectar and pollen. It is considered a good honey tree. The fruit is an oblong, bluish black drupe, 3/8 to ½" long, ripening September-October. The fruits are sour but eaten by many species of birds and mammals. Fruits are high in crude fat, fiber, phosphorous and calcium.
Nyssa sylvatica was always a difficult plant for my students to identify, particularly in winter. The ovoid, ¼" (3/8") long buds are composed of variable colored, yellow brown to red-brown scales. The three vascular bundle traces form a cave-like entrance to the leaf scar. If still in doubt, cut the stem on the long axis and note the chambered pith. The dark gray, brown, brown-black bark on older trees is quite distinctive, often checkered into block-like/alligator hide patterns.
I believe Nyssa sylvatica is more adaptable to extremes of soil than given credence. Ideally, soils should be acid, moist, and well drained yet in the wild it grows in swamps, freshwater ponds, dry mountain ridges, abandon fields and mixed forest situations. In 2012, Bonnie and I visited the Jefferson National Forest in southwest Virginia. Mixed with oak, maple, birch, tuliptree, serviceberry, and blueberries were numerous black tupelos on the mountainsides among the rocks and rubble. Seedling trees were planted through the years at Mt. Airy Arboretum in Cincinnati, Ohio (park established in 1911; arboretum in 1930s). The soil is heavy clay, high pH and mature trees have never developed chlorosis. By observation/inference, the species is more high pH tolerant than given credence by the literature. The species is hardy from zone 4 to 9.
Nyssa sylvatica has a warranted reputation for being difficult to transplant because of the taproot and stringy root system. I mentioned 21 trees were installed along the Oconee Connector. These were ~4" diameter trees, the remnants of a seedling block that had not been root pruned. All survived but were slow to recover from transplant "shock". In their 4th year, the leaf sizes were normal. Nurseries grow Nyssa sylvatica in grow bags, containers or, when field grown, root prune during production, thus minimizing loss. Bare root liners do not transplant well. Hale & Hines Nursery in McMinnville, Tennessee, produces beautiful trees in 15-to-45-gallon containers.
Below is a list of Nyssa sylvatica cultivars cobbled together from nursery catalogs, literature, and personal experiences.
Afterburner® ('David Odom')

'Autumn Cascade(s)'

'Big Momma'

'Carolyn'

Fire Master® ('PRP 1')

Firestarter® ('JFS-red') Heavy leaf spot in Louisville.

Forest Fire™ ('The James')

Forum™ ('NXSXF')

Green Gable™ ('NSUHH')

Gum Drop® ('JFS-PN Legacy 1')

'Hidden Hollow Dwarf'

'Isobel Grace'

'Jermyns Flame'

'Lakeside Weeper'

Majestic® ('M.O.N.2')

'Miss Scarlet'

'Mount Vernon'

'Mt. Airy'

Nitro™ ('BBN-01')

Northern Splendor™

'Penwood Weeper'

'Red Jeanne'

Red Rage® ('Hayman Red')

Red Splyndor® ('NSMTF')

'Red Red Wine'

'Salem Weeper'

'Sheffield Park'

'Sheri's Cloud'

Snow Flurries™ ('Grechrist')

Tupelo Tower™ ('WFH1')

White Chapel™ ('Cherry Pie')

'Wildfire'

'Winchester' (same as 'Winning Colors'?)

'Windsor'

'Winning Colors'

'Wisley Bonfire'

'Zydeco Twist'
To date, Mike Hayman has accumulated 21 selections/cultivars. I asked him for commentary on those he considered the best, based on performance in Louisville. My observations are in italics.
Mike noted it is difficult to pick the best because they vary year to year, and some haven't been in the collection long enough to judge, but so far, using architecture/branch structure, leaf spot resistance, and fall color as criteria, these rated high.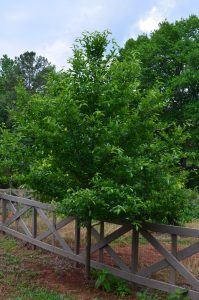 Afterburner® ('David Odum')- Prolific fruit producer. Usually good leaf spot residence in Louisville. Glossy leaves. High disease susceptibility in Dirr garden. Never had the opportunity to observe the rich red fall color since leaves had abscised.
Fire Master® (PRP 1')- Discovered by Phil Powell in western Kentucky, glossy leaves, smaller leaves than Red Rage®. Excellent red fall color. Good leaf spot resistance if in full sun. Female. Dirr has not grown. Observed with leaf spot in Louisville 9-13-16.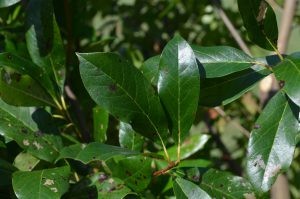 Green Gable®- Dense, upright habit, glossy leaves. Good against leaf spot. Found by Harald Neubauer, Belvidere, Tennessee. Male. Tree in the Dirr garden is upright conical-pyramidal with upswept lower branches. Fall color has been inconsistent. Great red when at its best. Terrific choice for areas where lateral space is limited.
Majestic®- Seedling of 'Carolyn' discovered by Ken Kazimier, Madison, Wisconsin. 'Carolyn' is a New Hampshire seed source so Majestic® should be very cold hardy but someone else will have to test cold limits. Little early to judge but so far doing very well in Louisville. Glossy leaves. Female. Yellow, orange, red fall color, according to Kuenzi Turf & Nursery.  Dirr has not grown.
Red Rage® ('Hayman Red')- Big glossy summer leaf and easy to identify from the leaves. Red orange fall color usually. Found near Tell City, Indiana, in a fence row. Good against leaf spot if in full sun. Good branch architecture. Male. Excellent smaller version of the species. High leaf spot resistance in the Southeast. Consistent orange red fall color. Trees on the Georgia and Wofford College (Spartanburg, S.C.) campuses are outstanding.
'Wildfire'- Burgundy spring foliage. Dense, wide, fast growing, almost certainly a southern seed source. Found by Steve Hottovy. Fall color sometimes. Good against leaf spot. Good architecture. Male. I have three in the garden. Fast growing and maintains a central leader. Branches are wide spreading, the lower arching. The emerging leaves are red, maturing green (May in the Dirr garden). Subsequent growth flushes still colorful. Fall color inconsistent and seldom great although in the Dirr garden and Georgia campus, trees have colored brilliant red. High resistance to leaf spot. 
'Winning Colors' is a prolific fruit producer. Scarlet fall color. Good architecture. Good against leaf spot but not as glossy as Afterburner®. Dirr has not grown.
A few Dirr recommendations beyond Mike Hayman's and my combined thoughts.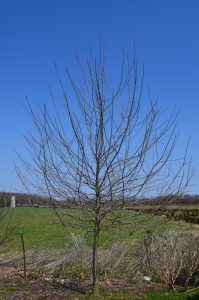 Forest Fire™ ('The James')- Upright oval to rounded crown, 40-50' by 20-25'. Uniform branch structure, branches upswept. Glossy dark green leaves turn red in fall. Female. Introduced by Hale & Hines Nursery, McMinnville, Tennessee. Good leaf spot resistance on small tree in the Dirr garden.
Nitro™ ('BBN-01')- Have only observed once. Large leaves, red-purple new growth. Red fall color. Listed 40-50' high, 25-30' wide. A sport of 'Wildfire', the leaves ~twice as large. Described as 'Wildfire' on steroids. Leaf spot resistance unknown.  Perhaps like 'Wildfire'. Introduced by Dwight Bottoms, Bottoms Brothers Nursery, McMinnville, Tennessee. Offered by Greenleaf Nursery.
Red Splyndor® ('NSMTF')- Red Splyndor® maintains a central leader with upswept secondary branches forming a pyramidal-oval outline. Impressive, uniform, symmetrically branched tree. Foliage is lustrous dark green, various shades of red in autumn. Typically, clean foliage, although slight leaf spot on occasion. Sets some fruit. 50-60' by 35-40'. Discovered by Dwayne Moon, Moon's Tree Farm. Dwayne and I work on many tree projects and currently are propagating the Mount Vernon Nyssa that was previously described.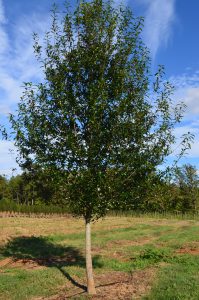 The Nyssa sylvatica story continues to unfold as new selections are made. I doubt there will ever be a perfect black tupelo. For Mike Hayman, Dwayne Moon, myself, and other arboricultural explorers, the joy is in the discovery, and numerous trees yet await our visit.
To All Authorized Members,
I hope everyone is doing well and surviving whatever Mother Nature is throwing in your direction - excessive heat and humidity, epic floods, smoke-filled skies, or all of the above. In what is becoming a broken record, HMI is coming off another record quarter. So, I know you have all been busy! This year is shaping up to be an important year for HMI's Authorized Member Network. Not only are we collectively expanding the use of professional tree care companies by the insurance industry, but we are also setting the standard for what property owners and insurance carriers should expect from the industry. Our member network offers a high level of customer service, subject matter expertise, high-quality workmanship, personal and business ethics, and empathy. It's a formula that's creating a lot of opportunities for all of us.
I won't spend much time reflecting on the volume of referrals HMI distributed in the first half of the year. But it is worth mentioning that our emergency tree removal claim volume was up 30% over the first half of last year. For some context, the first half of last year was 180% above the first half of 2021. Which means last year was going to be hard to beat, and we all did, by 30%.
To help you all handle the added volume, I'm pleased to announce that the much-anticipated upgrade to our mobile app is in the final stage of testing. The new app, HMI Connects, uses technology that is faster and more reliable than the HMI-RMS app. Testing so far has shown a significant improvement in connectivity with the RMS, many users reported uploading 50-100 photos in seconds. Use of HMI's mobile app is becoming increasingly important as insurance adjusters and homeowners are expecting immediate responses, and we're all asked to handle more assignments in less time.
If you have been waiting for HMI to ramp up our commercial property referrals, then I have some good news for you on that front as well. Doug Malawsky's team just closed a contract with a large property management firm with properties in Florida, South Carolina, and Georgia. The contract provides the company with access to HMI's Network of professional tree crews to clear trees and debris from their properties after major storm events. Like HMI's other clients, they were tired of being exposed to unscrupulous companies like the ones they felt had taken advantage of them following Hurricane Ian last year. HMI expects to sign additional contracts like this one before the end of the year.
As stated above, the first half of 2023 set a record for HMI and our Network. The second half of the year is starting off just as strong with July shattering our prior record for the month by over 50%. This, without a hurricane! We fully expect the trend to continue this year as we are planning to add two more significant programs to our residential emergency tree removal business, and the additional commercial clients noted above. Plus, we are now heading into the teeth of a 2023 hurricane season that is one of the most unpredictable in recent memory. Current forecasters expect the record-warm ocean temperatures to drive more and stronger hurricanes than you would typically see in an El Niño year. Regardless of what happens, the HMI team is ready to assist you to make sure your participation in HMI's program is a rewarding one for you and your team.
Thank you all.  Stay safe!
Regards,

Doug Cowles
President, Horticultural Asset Management, Inc.
Aesculus, the buckeyes and horse chestnuts, comprise 13-19 species in the United States, Europe and Asia. Aesculus arguta, Texas buckeye, A. flava, yellow buckeye, A. glabra, Ohio buckeye, A. parviflora, bottlebrush buckeye, A. pavia, red buckeye, and A. sylvatica, painted buckeye, are reasonably well represented, at least in botanical gardens and arboreta from Minnesota to Georgia. Many of these species interbreed and hybrids are known. Aesculus californica, California buckeye, is a beautiful, white-flowered, broad-canopied tree found on dry hillsides in California. It is seldom cultivated in the eastern U.S., although pretty specimens are extant at the JC Raulston Arboretum, Raleigh, NC, and the Norfolk Botanical Garden, VA. The fruits/seeds are the largest of the U.S. species. I have grown and/or propagated all the eastern species, with A. flava, A. parviflora, and A. pavia sprinkled throughout our 3.5 acres, primarily in shady habitats.
The rarest species in the garden are A. chinensis, Chinese horse chestnut, which has yet to flower, and A. ×carnea, red horse chestnut, which flowered consistently the past 10 years, although considered ill-suited to the southeast. The tree was planted in 2013 and is now 15' high and 12' wide. Sited in full sun (by definition at least 6-hours), but on the north side of larger pines and oaks, it exceeded expectations. It is the result of hybridization between A. hippocastanum, common or European horse chestnut, and A. pavia, red buckeye. The hybrid is thought to have arisen in Germany as a spontaneous seedling. This means that the two parents were in proximity and the unscheduled wedding occurred, resulting in this magnificent, lustrous dark green leaved, rose-red-flowered, stately, medium-sized tree. I notice variation in the intensity of red flower coloration, so seedling trees, although purported to breed true-to-type, do not necessarily do so. I have collected seeds of the species but have yet to have a seedling flower. Aesculus flava seedlings produce flowers in their second and third years.  To minimize thievery by squirrels, the fruits are collected when the outer, light brown, leathery husk starts to split. The seeds of A. ×carnea are polished brown-black and ¾ to 1-inch diameter. Seeds are planted immediately, covered with wire/netting to protect from varmints. Seedlings develop a taproot soon after planting; the shoot appearing immediately or the following spring.
In England and the European continent, the species is common, with mature trees hovering between 40 to 50' high and wide. The red flower color is more intense there, possibly because of the cooler day/night temperatures. The largest trees in the U.S. are found in the northern states, not quite as prosperous/large in Zone 8, yet quite respectable. My wife and I host visitors/tours in May, and the A. ×carnea 'Briotii' (see under cultivars) is the most asked about plant. What is it and where can I buy one?
Aesculus ×carnea and A. hippocastanum are often maligned because of the leaf blotch (Guignardia aesculi/Phyllosticta sphaeopsoidea) which causes brown, disfigured, and tatty leaves in summer-fall. The disease does not kill the trees. I have found that A. ×carnea is less susceptible and, based on the 10 years in our garden, worthy of greater use from zone (4)5 to 8a. The Dirr tree is minimally affected by the blotch with leaves persisting into November. In Salt Lake City, UT, during an October visit, I noticed A. ×carnea and A. hippocastanum mixed in a street tree planting. The former clean; the latter riddled with leaf blotch.
The rose-red flowers are borne in 6 to 8" long, 3 to 4" wide terminal panicles in May. The tree flowers in late April into early May in Athens; a month later in the Boston area. The lustrous dark green, compound palmate leaves are composed of 5(7), 3 to 6" long leaflets, each with a slight undulating surface and serrated margins. Leaves may develop a tinge of yellow in fall. The buds, especially the flower (terminal), are ½ to ¾" long, and covered with dark chestnut brown, sticky scales. The stems are stout, gray; young trunks smooth and gray-brown; older becoming scaly and darker brown. The fruit covering has short spines, somewhere between the spiny fruit of A. hippocastanum and the smooth fruit of A. pavia.
The species is best adapted to moist, well-drained, acid or neutral soil, full sun to partial shade. Container and balled and burlapped trees transplant readily.  Although the literature refers to lack of heat and drought tolerance, I have yet to observe leaf drop/browning.
Cultivars:
'Briotii', known as the ruby red horse chestnut, is commercially available. It originated from seed in 1858 at the Trianon in France. Flowers are deeper red and borne on 10" long inflorescences. I encountered many trees labeled as 'Briotii' and the flower colors do not always match the description. The tree in our garden was purchased as 'Briotii' yet the flower color is pink-rose rather than red. Ideally purchase the tree in flower. I speculate that other A. ×carnea seedlings may have been labeled as such.
'Fort McNair' was selected for the increased resistance to leaf blotch. In Athens, I see little difference in susceptibility between this and 'Briotii'. Certainly, a handsome tree and, without the label, I could not tell it from the Dirr 'Briotii'. Selected on the grounds of Fort McNair, Washington, DC.
'O'Neil's Red' has longer inflorescences (to 12") and brighter red flowers than the above. A particularly beautiful tree grew in the Sarah P. Duke Gardens, Durham, NC, and flowered there in early to mid-May. Many spellings of the cultivar name. A reference mentioned 'O'Neill Red' was introduced by Monrovia Nursery circa 1979.
I believe an opportunity exists for intelligent/transformational breeding with Aesculus. The New World, A. pavia, serendipitously crossed with the Old World, A. hippocastanum; thus, other far-fetched species' combinations may be possible. Hybrids of the eastern North American species like A. flava, A. glabra, A. pavia, and A. sylvatica are common and legitimized by GRIN taxonomy (see www.ars-grin.gov). Hybrids between A. parviflora and A. pavia would result in superb, pink-flowered offspring. I need to get back to the work at the breeding bench.
To All Authorized Members,
The first quarter (Q1) of 2023 certainly started off with a bang for HMI and the members of our network.  As you may recall from my year-end 2022 recap, HMI's Authorized Members (AMs) sold 50% more work last year than they did the year before.  Well, in Q1 2023, HMI received 40% more emergency tree removal claim assignments from our clients than we did in Q1 last year, and the network was able to generate almost 50% more sales from the assignments we received…so, the trend continues.  Truly extraordinary!  Aside from the continuing growth of our tree removal service, there has been a lot going on at HMI as you will find in my summary below.
During Q1, HMI supported five separate deployments in Florida, Texas, and California to provide our clients with professional tree care services on both residential and commercial properties.  Wintertime deployments are especially valuable to members of our network that are located in areas of the country where work typically slows.  And, while wintertime deployment opportunities used to be a rarity for HMI, I am happy to report that demand for our services required winter deployments in each of the last six seasons.  As HMI's customer service team (and many of you) can attest, there really is no "off-season" for us anymore.
To help drive even more work to our members, HMI has been working to on-board three new programs. Two of the programs are designed to expand and optimize HMI's relationship with carriers that are each ranked inside the top 10 in the country.  HMI has worked with both carriers in the past, but in a limited way.  The third program is with one of the country's leading restoration companies.  Their offices are in need of professional tree care services when assigned claims that involve tree damage.  This program reflects HMI's most aggressive pursuit of tree removal claim assignments that bypass our traditional channels and end up with a general contractor.  If successful, this may represent one of the most valuable programs that HMI has established.  These programs should come on-line in late Q2 or Q3.
As you all know, HMI developed its Tree Removal Cost Guide to inform our clients about the range of costs they should expect to pay for storm work completed by professional tree care companies in our network.  HMI surveys our network members regularly to make certain that the guide is reflective of accurate costs.  Recently, Gretchen Piechottka sent a survey to each company in our network asking about current labor and equipment costs, and if any adjustments to the Guide are warranted.  I want to thank everyone who responded to the survey or spoke with us directly about pricing pressures being felt around the country.  We hope to have our guidelines updated by the end of this month and a new Guide will be distributed to everyone.  Please contact Gretchen Piechottka if you don't receive an updated Guide by mid-June.
HMI has continued investing heavily to promote our commercial contract services business which has resulted in multiple jobs for members of our network on golf courses, resort properties, municipalities, campgrounds, school campuses and even ski resorts. While many opportunities come to HMI through an insurance claim, increasingly we are generating leads for non-claim work as well, such as landscape enhancements, plant healthcare, and hazard assessments.  This month, HMI exhibited at a large community managers show in Dallas to promote the use of our network to support a broad range of services, including tree care, landscaping, storm preparedness and response, and more.
On behalf of everyone at HMI, I want to thank all of our network members for the outstanding responsiveness and professionalism demonstrated during a record-setting start to 2023.  Together we have established HMI as a high quality, consistent and reliable partner for insurance carriers and their clients.  It is clear that the standards we have collectively set for the services we provide are what our clients need and deserve.  There is no doubt in my mind that 2023 will be another year of strong growth as more and more carriers realize that there is a way to protect their clients from poor workmanship and questionable ethics, which are unfortunate realities faced by too many homeowners in the aftermath of a storm.  I am proud to be associated with the best in the business.
Finally, please join me in congratulating Doug Malawsky on becoming a Certified Risk Manager (CRM).  HMI is often asked for guidance on strategies to mitigate risks through services or proper insurance coverage. As a CRM, Doug is now able to formalize the role he, and HMI, are able to play in risk mitigation services, many of which will require assistance from our network… together we grow!
Thank you all.  Stay safe!
Regards,

Doug Cowles
President, Horticultural Asset Management, Inc.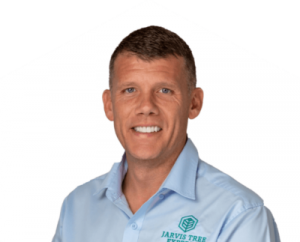 In this month's member spotlight we introduce you to Joshua Jarvis, the owner and senior consulting arborist for Jarvis Tree Experts in Atlanta. Josh is an ISA Certified Arborist, a Certified Tree Care Safety Professional, and he holds his ISA Tree Risk Assessment Qualification.
He has performed work under each HMI service line, including deployments to provide emergency tree removal services after numerous CAT events. He's a great resource for information on tree care and also travels the world doing mission work. Learn about Josh and his experience by reading our Q&A below.
Carya species, hickory, native throughout the eastern, midwestern and southeastern United States, are seldom available in retail commerce. Primarily relegated to the deciduous forests, commingled with oak, beech, maple, tupelo and birch, few trees are more beautiful in autumn when aglow with the late developing, long persistent, rich yellow-gold foliage. Foliage shows significant frost/freeze tolerance in the range 24 to 28°F. I noticed hickories retaining fall color when adjacent species lost color or defoliated. From swamps (Carya aquatica) to mountaintops (Carya ovata) and sites between, a hickory resides. The nuts nourish all manner of wildlife and the pecan, Carya illinoinensis, is a major commercial tree, particularly in the southeast and southwest. There are ~18 Carya species and several hybrids. Eleven species occur in the U.S. with five of these extending into Canada. For a complete list of species worldwide, search germplasm research information network (www.ars-grin.gov) and plants of the world (powo.science.kew.org).
Leaves, flowers, and fruits
Hickories are tricky to correctly identify (ID), and hybrids make the process even more confusing. The following characteristics will lead the reader to the genus. After that, ID may become less clear/absolute. Leaves are alternate, compound pinnate with a central axis (rachis) and (3)5 to 19(21) leaflets, the terminal leaflet often the largest and obovate in outline; the lower leaflets oppositely arranged along the rachis. The leaf margins are serrate (toothed), surfaces pubescent or glabrous, and when bruised or crushed release a pungent odor.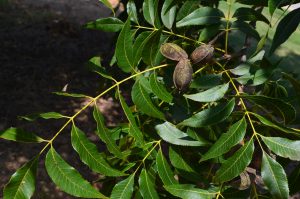 Flowers are monoecious, meaning in separate structures on the same plant. Flowers open with the leaves, usually around mid-April in the Athens area (zone 8a). Male flowers appear in long cylindrical catkins from buds of the previous season's growth. The apetalous female flowers occur on the emerging shoots of the season, either solitary or up to 10 in a cluster. The nuts that follow develop from a single ovary with two stigmas, the seeds appearing as two but joined at one end.  The top-shaped, rounded, to ellipsoidal (pecan) shaped nuts are covered with a husk that typically splits along four suture lines. Fruits mature in October-November and the dehisced nuts are often evident under the tree. The seeds are high in unsaturated oils and serve as an important food for wild animals and birds. Pecan, C. illinoinensis, is an important commercial nut tree with a value of over 399 million in 2020.
Bud, stem, bark and wood
Winter buds vary from species to species and are described within the species' descriptions that follow. Bark is likewise variable and the shaggy bark of C. ovataand C. laciniosa, is instantly recognized. Carya glabra and C. tomentosa are smooth barked in youth, developing ridged and furrowed bark with maturity. Tree bark of Carya aquatica is smooth in youth, then slightly roughened/scaley in old age. The wood of hickories is used for furniture, flooring, cabinets, veneer, tool handles, and for smoking meats. How many hickory trees have suffered because of ham and bacon? Worth mentioning from an identification standpoint that the stems of Caryahave solid pith, while Juglans (walnuts) have chambered pith. Split the first-year stem through the center longitudinally and the differences become obvious. Both reside in the Juglandaceae family and can be confused.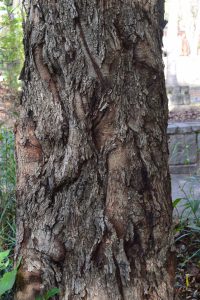 Propagation of Carya is principally by seeds and grafting/budding. The latter a common method for cultivars of pecan. Squirrels may be the best seed dispersal agents, for seedlings, particularly pecans, appear weed like in the southeast. I collect nuts in October-November, place several in well drained, bark medium in 3-gallon containers, cover 1 to 2", and protect from animals with a screen. Seedlings require a cold period and are left outside. Germination takes place the following spring. The individual seedlings are then transplanted during the next winter to 3-gallon containers, the tap root pruned to half or more its length. I know a nursery that roots cuttings of Carya aquatica by harvesting juvenile shoots that develop after transplanting trees from the field. The holes are not filled, and adventitious shoots develop from the severed roots that remain at the edges. This method could be applied to other Carya species.
Carya species are adapted to wet (Carya aquatica), sandy/dry rocky slopes and ridges (Carya tomentosa), and silt loam to clay (Carya glabra, Carya laciniosa, and Carya ovata). If they were easy to transplant, hickories would be available in greater numbers. Hickories are essential components of the North American deciduous forest ecosystem and, with oaks, maples, birches, tupelos, elms, walnuts, tuliptree, beech, and sweetgum, command and deserve to be planted and preserved.
I recommend purchasing small bare-root seedlings or containerized material. Several growers/retailers from whom I purchased hickories and other native trees include Superior Trees, Lee, FL (superiortrees.net), Mail Order Natives, Lee, FL (mailordernatives.com), Forrest Keeling Nursery, Elsberry, MO (fknursery.com). Hillis Nursery Company, Inc., McMinnville, TN, (hillisnursery.com) offers six Caryaspecies. Melanie Wells, Mount Vernon, provided additional online nurseries that supply Carya species (americanheritagetrees.org and whitehousenatives.com).
The best adapted and available Carya species for garden and native plantings include the following.
They are presented by bud and leaf characteristics. Carya aquatica, C. cordiformis, and C. illinoinensis have valvate terminal buds meaning the bud scales meet at their edges but do not overlap, the terminal larger than the lateral buds. The leaflets, the same size throughout.
Carya glabra, C. laciniosa, C. ovata, and C. tomentosa with bud scales overlapping. Leaflets fewer, the terminal leaflet larger than the laterals, often 2 to 3 times. Terminal buds larger than laterals.
Carya aquatica, water hickory, is a beautiful tree with finer textured foliage and branching habit than those that follow. There are typically 9 to 11, 2 to 3" long, equal sized leaflets. Leaves are rich green, turning soft to bright yellow in autumn. I noticed leaves still persisting on trees in Athens as late as mid-November. The nut is 1 to 1 ½" long, broadly ovoid, and four-winged along the seams. The kernel is bitter. The rich brown bark develops scaly plates, not as prominent as those of C. laciniosaand C. ovata. I noted a 70' high tree at the Coker Arboretum, University of North Carolina, Chapel Hill. National champion is 97' by 62'. Common in swamps and along rivers from Virginia to Texas. This has been the easiest hickory to transplant balled-and-burlapped. Zone 6 to 9.
Carya cordiformis, bitternut or swamp hickory, has seldom crossed my path, although native to every state (except Maine) east of the Mississippi and nine contiguous states west of the mighty river.  I remember trees at Middlebury College, Vermont, University of Illinois, Champaign-Urbana, IL, and in June 2022, Mount Vernon, VA. Initially, I was not positive about the identification of the Mount Vernon Carya, until Melanie Wells, horticulturist, sent a photo of the sulfur yellow buds. The branches were so high, I could not accurately count leaflet numbers (typically 7 to 9, ~equal size) or determine bud color. Melanie mentioned that the tree was previously identified as C. tomentosa. The light green, slightly falcate leaflets are 3 to 6" long, ¾ to 21/2" wide, turning rich golden yellow in fall. The suborbicular nut is 11/4" long, 4-winged or ridged, often only above the middle, the seed bitter. Typically, a slender tree with an irregular, cylindrical crown of stiff ascending branches, widest at the top. This habit description could be superimposed on the Mount Vernon specimen. Bark is gray-brown, smooth initially, developing low narrow interlacing ridges, occasionally with a few scales. I estimate 50 to 75' high, slightly less in spread. National Champion is 106' high and 100' wide. Considered the fastest growing of the hickories. In the wild, most often found in low woods, less frequently in uplands, although the USDA profile describes it being found on rich, loamy or gravelly soils, low wet woods, borders of streams, and dry uplands.  Zone 4 to 9.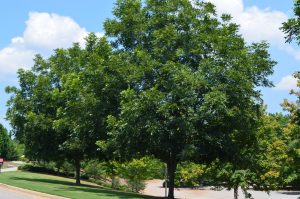 Carya illinoinensis, pecan- Although not native in Georgia, it is major cultivated nut crop with a value of 182.5 million in 2021. Seedling trees are like mushrooms and appear everywhere, producing reasonable quantities of edible nuts. The modern pecan industry relies on improved cultivars and thousands of acres were planted in the last 10 to 15 years. Leaflets vary from 11 to 17, each 4 to 7" long, 1 to 3" wide, the midvein slightly curved, resulting in the term falcate. About the easiest Carya to identify by foliage. Leaves are lustrous dark green, persisting late into November (Athens), occasionally with a wisp of yellow fall color. The thin-shelled, ellipsoidal, brown nuts, tapered at their ends, average 1 to 2" long and are held in a four-valved, winged, dehiscent husk. Nuts dehisce in November in the Athens area and can be readily gleaned. Plant in moist, well drained, deep soil, although stray seedlings take hold under myriad conditions.  The lateral buds resemble toasted almonds in shape and color. They are held at 45-degree angles to the stem. Bark is gray-brown, somewhat scaly on mature trunks. A large tree, 70' and beyond, and certainly not for small properties. National champion is 97' by 106'. In nature, the species inhabits low areas along water courses from Indiana to Texas. Zone 5 to 9.
Carya glabra, pignut hickory. I grew up with this species in southern Ohio where it was quite common. It has a tapering trunk and a regular, open, oval head of slender contorted branches. Finer texture than C. laciniosa, C. ovata, and C. tomentosa. Leaves are composed of 5 to 7 (typically 5), lustrous dark green leaflets. Each 3 to 61/2" long, 1 to 2" wide, the lower pair one-third the size of the terminal. Leaves turn beautiful golden yellow in fall. Nuts are subglobose, ¾ to 11/4" long, the seeds with a bitter taste. The bark is smooth, gray-brown on young trees, eventually developing rounded ridges, intersecting to form a diamond shaped pattern. Landscape size approximates 50 to 60' high and 25 to 35' wide although the National Champion is 149' by 75'. Common in nature in drier habitats, upland soils, and rocky areas. Zone 4 to 9.
Carya ovata, shagbark hickory, is one of my favorite Noble Trees which should be planted in every park, golf course, open area from Canada to Florida and west to Missouri and Texas. The bark, composed of gray-brown shaggy scaly plates, free at both ends, curving away from trunks, makes for easy identification. The deep green leaves, comprised of five, rarely seven, 4 to 6" long, ½ to 21/2" wide leaflets, turn saturated golden yellow to golden brown in fall. Nuts, nearly round, 1 to 11/2" diameter, shell angled, husk ¼ to 1/3" thick, freely splitting at maturity, no winged suture lines, enclose edible, sweet seeds. Shelled shagbark hickory nuts sell for $9.99 per ounce or $19.99 dollars for three ounces from hickorynutsdirect.com. Species develops a straight, cylindrical trunk, with an oblong crown of ascending and descending branches (like C. laciniosa). In the wild, is found in drier upland slopes and deep well drained soils in lowlands and valleys over most of eastern North America. I have observed magnificent trees in urban, suburban and natural areas. Have yet to be disappointed by performance. Estimate 60 to 80' high. National Champion is 104' by 99'. Zone 4 to 8 (9).
Carya laciniosa, shellbark hickory, differs from C. ovata in leaflet number, primarily 7, and the absence of tufts of pubescence (hairs) near the tips of serrations. Buds, bark, nuts (sweet seeds) are similar. Safe to state, I am never sure about positive identification between this and C. ovata until examining the leaves. Estimate 60 to 80' in height; the National Champion 109' by 112'. Found in bottomlands and floodplains, New York to Alabama to Missouri and Arkansas. Not as common as C. ovata. Zone 5 to 8.
Carya tomentosa, mockernut, white hickory, is a common species over most of eastern North America. The leaves and stems are covered with brown pubescence which persists and permits easy identification. The leaves are composed of 7 to 9 leaflets, the upper pair 5 to 9" long, 3 to 5" wide, the lower pair two-thirds that size. Leaves are dark yellow green, fragrant when bruised, and develop deep golden yellow to golden brown fall color.  Nuts are elliptical to rounded, 1 to 11/2" long, angled, with a ¼ to 1/3" husk splitting to the base. The seed is edible. Habit is narrow to broadly rounded. The bark develops interlacing ridges forming a diamond to netlike pattern. Common to dry habitats of uplands, including ridges and hillsides. To 3,000' in the southern Appalachians. I estimate 50 to 60' high under landscape conditions. Many trees in the Athens area supersede this size. The National Champion checks in at 140' high and 85' wide. Zone 4 to 9.
The other U.S. species are C. floridana, scrub hickory, C. myristiciformis, nutmeg hickory, C. pallida, pale or sand hickory, and C. texana, black hickory.
This mini treatise will hopefully inspire readers to become familiar with Carya, hickories. They are remarkable Noble trees that for too long have flown under the landscape radar. I believe the Chinese Proverb, "The best time to plant a tree was 20 years ago; the next best time is today", applies to hickories. In my 78th year, I planted a Carya aquatica grown from seed collected at the USDA Germplasm Repository in Beltsville, MD. The quote, "The true meaning of life is to plant trees under whose shade you do not expect to sit", rings true for my effort.








Robert Driskill has been an active member in the Network since 2009 and serves the Greater Atlanta region. As a landscape architect by trade, Robert has been an ISA Certified Arborist since 2005 as well as an ISA Certified Tree Climber/Worker since 2010. He demonstrates the importance of responsiveness and good communication within HMI's Network. Robert will graduate law school this year with plans to take the Georgia State Bar this time next year. He intends to use his law degree to help tree removal companies, property owners, and municipalities with legal issues surrounding arboriculture and landscape architecture.
To All Authorized Members,
I realize it's been a short time since HMI's last newsletter graced your inbox.  Since only a few weeks have elapsed since my last letter, you would think that would mean this one will be shorter.  Of course, that's not how I roll.  This is my opportunity to reflect on everything that we accomplished together with HMI's Authorized Member Network (the network) last year.  It was another successful year for HMI with continued growth in our core services and investments in new initiatives, please read below for a quick roll-up of 2022.
HMI's emergency tree removal service was in high demand last year.  2022 started with a major snowstorm in the mid-Atlantic states in January and ended with our network responding to the atmospheric river that brought six major storms into California.  In between, HMI and its network assisted clients following February's major ice storm in Tennessee, repeated spring/summer thunderstorms across the south, midwest and northeast, Hurricane Ian in late September, and the epic snow event that buried Buffalo and other major metropolitan areas in December.  At the end of the year, network members sold nearly 50% more emergency tree removal work than they did in 2021.  An amazing year by any standard!
There isn't much more I can say about the professionalism, commitment, and customer service exhibited by our members every day.  Providing first responder services is oftentimes stressful and always critically important work.  HMI is proud to work together with the best tree care companies in the industry to provide the highest quality service available, at a time when homeowners (and insurance carriers) need it the most.  I'm happy to report that this year we're off to a fast start already.  January of 2023 trails only January of 2022 for the most active in HMI's history.
Supporting our network is the best back-office team that HMI has ever had.  Gretchen Piechottka and the customer service group have added a level of support that elevates the entire program.  By setting clear expectations with clients and supporting our network members with training and assistance with coverage questions and claim approvals, the team is helping reduce cycle times and improve conversion rates.  The finance team is also working hard to reduce payment cycle times on claims.  I'm thrilled to report that over 95% of all claims from Hurricane Ian have been paid.  An extraordinary feat that required quality files to be submitted quickly by our members, rapid processing by HMI's audit team, and diligent follow-up and check processing by the finance team. Let's not forget the quality insurance carrier partners that processed HMI's files while dealing with a massive volume of claims.
Outside of our tree removal service, we have also been actively investing in the expansion of the company's consulting and contract services.  You are all aware of the work Doug Malawsky's team gets involved in.  You may, however, not be aware of how much work his team generates for members of HMI's network.  Over 25% of the companies in the network were called on to support HMI's consulting and contract services sales last year.  The companies were hired to provide pre/post loss tree inspections, damaged plant inventories, plant health and general tree care services, storm response services on commercial and municipal properties, landscaping design/build services, and more.
Like our tree removal service, consulting and contract services are also off to a very fast start in 2023.  HMI network members are currently working on projects in Florida, Texas, Colorado, and California.  The team is investing more than ever in lead generation activity to increase opportunities.  HMI is building a database of members who wish to participate in these opportunities. Please contact Gretchen Piechottka if you want to be included in this database but haven't heard from us already.
As we all look forward to 2023 – HMI's 20th anniversary year, you should expect more from your membership in the network than ever before.  Not only are we making significant investments in marketing and lead generation as described above, but we are also continuing to invest in technology that will continue to reduce the amount of time it takes to process an HMI referral.  As always, do not hesitate to reach out to anyone at HMI if you have questions about your membership, would like some additional training for you or your team, or if you have any suggestions on how we can better support your business.
Thank you all.  Stay safe!
Regards,

Doug Cowles
Cornus is a fascinating genus with species ranging from groundcover habits (Cornus canadensis) to large trees (Cornus controversa). I relate to students and garden visitors that if one dogwood is recognizable, then all can be. The leaves (primarily deciduous, several evergreen) are linear-ovate to ovate to broad ovate, margins entire (no teeth) with veins originating from the midvein and then turning toward the apex, almost paralleling the margin.  When the veins are and gingerly teased apart, rubbery strands are evident. Cornus alternifolia and C. controversahave alternately arranged leaves; all others opposite. Now the trick is to accurately identify the ~60 species.
(more…)