In February, Texas experienced an historic freeze event that plunged temperatures to record lows and kept them there for extended periods of time. We have received dozens of tree and landscape claims involving freeze damage to commercial properties. Unfortunately, most people do not know that one of the most effective ways to treat freeze damage to trees is through deep root fertilization, and the best time to assess your trees and apply this treatment is now.
HMI is proud to have a network of industry leading experts who understand that freeze damage can be treated, and that proper application is critical to the survival of the affected trees. Leaving affected trees untreated can result in significantly weakened trees that may not be able to tolerate the summer storms. This means that large limbs and trees will begin to fall under high winds and the weight of rain.

Arbor Masters, one of our expert Authorized Members assisting in Dallas, has recommended:  "take advantage of the current spring season timing to ensure your tree is getting the proper nutrients to put on the necessary compensatory growth while protecting against any opportunistic insects that may invade- all before the hot, dry Texas weather arrives. " Even trees that make it through storm season will eventually die prematurely from the stress of the freeze events.
Commercial properties may be particularly at risk, if not evaluated by certified arborists who know what to look for, and how to apply the correct treatments. Left untreated, large stands of trees on golf courses, resorts, and commercial properties can quickly become a liability. Arbor Masters points out "When it comes to proper tree fertilization, sometimes surface granular fertilization is not enough. Although beneficial for turf, the nutrients more than likely will not reach the deeper root systems of established trees when applied using this method. For this reason, it is important to utilize high pressure soil injection equipment that probes past the first four inches of soil occupied by the root system of grasses to get down to the area of high-density absorbing roots responsible for transporting nutrients to the tree's canopy."
HMI is standing by to help you figure out what the next step is to treat your freeze damaged trees through deep root fertilization. Acting now can save the trees that make the character of the property they are on and mitigate losses during storm season from sick and dying trees. 
Contact us now for a free consultation, and, to receive the expert assistance you need to ensure your trees not only survive but thrive!

A mild winter and potential early Spring season means your club's tree canopy may be at risk for aggressive wood boring insects.  Preventive measures taken now will greatly increase the likelihood that your tree canopy is protected from the damaging effects of opportunistic type insects such as the Small Southern Pine Engraver (Ips avulsus) and the Southern Pine Beetle (Dendroctonus frontalis).  This is especially important following severe weather events such as drought, wind, and floods that cause stress to the trees and in turn decrease their natural defenses against pests.  The weather patterns of 2018 and 2019 have created a "perfect storm" and it is no longer a question of "if" but one of "when" trees on your property will be affected.
Insects lying dormant over the winter months will soon become active and emerge in force.  Insect emergence typically correlates to the aggregate number of growing degree days1 (heat units) for your zip code and will vary from year to year.  As a rule of thumb, insects begin to become active when you have 5-7 consecutive days of average temperatures above 50°F.  This typically occurs in the month of May but can occur in late March or early April if the winter season was mild as was the case with the 2019-2020 winter season.
Having your club property inspected now by a certified arborist will identity potential problems before the warmer weather hits and the insects disperse.  Often, problems can be identified in the early stages and corrective measures can be taken to prevent widespread damage.  Unfortunately, once the Small Southern Pine Engraver or Southern Pine Beetle infest a tree, the damage is irreversible, and the affected trees will have a 100% mortality rate.
Contact HMI to discuss how you can more effectively manage your trees at (919) 439-0948 or email Doug Malawsky at dm*******@hm**********.com.
1A growing degree day ("GDD") is a measurement tool for tracking the accumulation of heat units, which are necessary for monitoring the growth and development of plants and insects. See http://www.greencastonline.com/growing-degree-days/home in order to see how many GDD's your area has experienced this year to date.
About HMI
HMI has assisted hundreds of golf course superintendents and general managers in addressing damage to trees, turf and landscaping from wind, flood, disease and insects.  Let us assist you in preventing damage before it occurs.  Please visit our website at www.hmiadvantage.com.
©2020, Horticultural Asset Management, Inc.  All rights reserved.
By Patricia Chaundoin
When Shea Zwerver was an undergraduate at a small liberal arts college in Pennsylvania, she had two seemingly divergent passions: social sciences and working in the outdoors. From these, she crafted her own undergraduate degree, with her major in Psychology and a minor in Landscape Studies. "I wanted to build understanding with people so they would value the outdoors and the sustainability of natural resources," she says. "I also was interested in the criminal justice system and the potential for rehabilitation through the outdoors.
"I got an internship at Morris Arboretum in Philadelphia," Zwerver continues. "While I was there, I created a survey for stakeholders – visitors, board members and others invested in the arboretum – that asked questions to help us understand peoples' emotional bonds to the landscape."
Eventually, she received her master's degree in Environmental Studies from the University of Pennsylvania. "It was then I started seeing opportunities to share and align my goals of landscape, psychology and criminal justice," she adds.
In 2016, Zwerver landed her current position as community engagement coordinator for the Pennsylvania Department of Conservation and Natural Resources (PA DCNR). Through her connections with Penn State Extension, she became aware of the Arborist Short Course that the extension service has offered to the general public since 2002. The course provides entry-level arborists with the training they need to take the ISA Certified Arborist exam.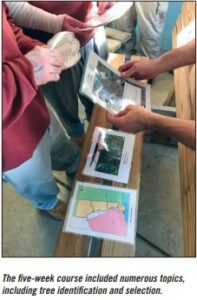 "I thought, 'Let's try this at a prison,'" says Zwerver. "It would give inmates employable skills, and if they could get their ISA certification while in prison, that would be a huge motivator. Plus, it could give the tree care industry a non-traditional and more diversified workforce pipeline."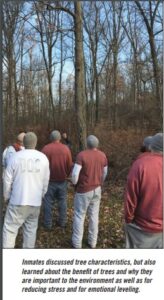 Zwerver says she approached the Pennsylvania Department of Corrections with her idea in the summer of 2017. "The woman I spoke with said that Forestry Camp would be the perfect place to pilot this program," she says, adding that the camp is a unique, minimum-security facility located directly across the road from the State Correctional Institution at Rockview, in the center of the state. Inmates nearing the end of their sentences are given the opportunity to live and work at the 72-person facility, which is manned by unarmed corrections officers 24/7, but has no wire fencing or bars on the windows. The camp is in the middle of about 2,600 acres of forest, which is managed for its wood products.
"It houses those who are sentenced for more minor infractions," notes Zwerver. "The inmates are going out daily from 8:30 a.m. to 3:30 p.m. to help manage the forest. They're felling trees for firewood, operating a sawmill and even maintaining a greenhouse and a small nursery with about 100 trees. They're working hard and getting lots of practical experience. The Arborist Short Course seemed perfect for them."
It wasn't long before Zwerver was launching her program. She offered the residents of Forestry Camp a series of 11 arborist courses over a five-week period last November and December. A total of 15 men signed up for the 18 hours of training based on the ISA's Arborist Certification Study Guidebook.
Zwerver reached out to a number of tree care specialists – many from Penn State Extension and the PA DCNR Bureau of Forestry – asking them to be instructors. Those who came on board presented topics ranging from "Tree Climbing, Knots and Working in Trees" to "Tree Identification," "Tree Worker Safety" and "Tree Pruning and ANSI Standards." Two women from the Delaware Forest Service, Kesha Braunskill and Hannah Small, presented on "Tree Selection," which included a fun, interactive game where each of the men was given a tree name and then had to find his corresponding leaf shape. Rich Vrboncic of Bartlett Tree Experts in Pittsburgh gave a talk on "Arboriculture as a Career Path," and Zwerver herself presented a program called "Why Care About Trees?"
"I talked about the benefit of trees and why they are important to the environment and for reducing stress, for emotional leveling," says Zwerver. "I asked the guys how they felt being in the forest, and one said he felt like a burden was lifted from him. Another said he felt more relaxed being surrounded by all the trees. Many of them said they felt that working with their hands and managing the forest had definite emotional benefits.
"We took a one-mile hike and talked about tree characteristics," Zwerver says.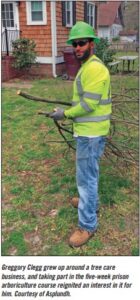 According to Zwerver, all the men – whom she guesses ranged in age from their mid-20s to early 50s – were extremely engaged and respectful during the entire five weeks of the course. "They were very appreciative," she notes. "They thanked each instructor and shook hands with them. Everyone involved felt it was really worthwhile."
Zwerver says one inmate in particular, Greggory Clegg, seemed very engaged during the short course. "He came up to me after the final class and said he was very interested in tree care as a career," she relates. "Greg had been incarcerated for 13 years and was released this past January. I heard from staff at Forestry Camp that he had pretty good tree-climbing skills. He even sent me a handwritten three-page letter afterward saying how much he appreciated the courses and that he wanted to pursue this, but he didn't have a resume and wasn't sure how to put one together. He didn't even have an email account. Then I realized he'd missed the past 13 years of technology, and something as simple as setting up email probably seemed daunting.
"So I helped him out with some of these things, like getting a resume together, and then I reached out to a few people about giving him an interview when he got out. I got good, positive response from the folks I reached out to. Greg called two of the companies I'd contacted, had interviews with both and ended up with two job offers – and one was with Asplundh."
According to Clegg, who now lives in Hampton, Virginia, the Arborist Short Course at Forestry Camp refueled a love for trees that he had as a child. "My mother and father had a tree care business, so I've been around this work since I was young," he says. "But I left home at 16 and was on the streets, getting into all kinds of trouble. So when these people came to Forestry Camp to speak to us, I really got that passion again. Hearing them just gave me a real drive and a goal. It made me want to be like them, like they were kind of a role model. And I look at trees in a whole new way now."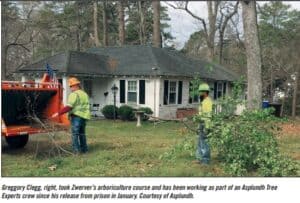 One of Clegg's job offers is contingent on the 35-year-old getting his Certified Arborist credentials. "I got 18 hours of training (during the Arborist Short Course) and I got my CPR training, so all I need is aerial rescue and then I can take the exam," he explains. "There is a guy at Cut Knuckle Tree Care (out of Portsmouth, Virginia) who said that once I get my arborist certification, he'll start training me in sales so I can go out on calls and bid on jobs and talk to customers about tree care."
For now, Clegg works at Asplundh as a ground worker, dragging brush, running chainsaws and doing other miscellaneous jobs. "My goal is to save enough money to eventually start my own business," he notes. "I'll have to start from scratch, get myself a truck and go from there. I'd also like to help others learn the business someday."
Clegg said he is indebted to Zwerver for her dedication to the arborist program at Forestry Camp. "She told me to follow my dreams and my passions, and she gave me a lot of good pointers," he says. "She's a really good person. You don't find too many people like that around. And she told me to keep in touch so she knows how I'm doing."
Based on Clegg's success and the overall positive response she's had to the program, Zwerver hopes to expand and offer the Arborist Short Course at even more prisons, including women's correctional facilities. "Three more prisons across Pennsylvania have shown an interest in offering some aspects of the training, and we hope to have another five-week course this fall at Forestry Camp," she says. "I'm also looking at teaching some basic tree care – like proper watering, disease control and general tree maintenance – to community work crews from local prisons. These are the people you see working along the roadside. Since many municipalities aren't able to maintain their trees due to budget restraints, giving these people tree care skills could be a great solution."
In the meantime, Zwerver is looking for Pennsylvania-based tree care business owners who might be willing to hire people who previously spent time in prison. She's also looking for speakers to present on "soft skills," as well as creating a resume and how to present oneself in an interview. Eventually, Zwerver hopes to build a nationwide network of tree care employers and company leaders "who are interested in exploring the possibilities of hiring the formerly incarcerated and becoming part of their re-entrance process," she says.
"We're talking about giving these people a second chance and helping them make a livable wage once they're released."
For more information on how to become involved in the inmate re-entrance process, contact Shea Zwerver at 717-346-9583 or c-********@pa.gov.
By: Patrick Parker
There you sit, enjoying these last sultry days of summer. Yet I feel it's my duty to remind you: Storms are brewin.'
The National Forecasters at NOAA have predicted the Atlantic coast will most likely have an above-normal number of hurricanes before the season officially ends on November 30th, with three to five of them likely to be "category 3" or higher. AccuWeather has forecasted snowfall for the mid-West and northern Plains as early as October. And what's in store for the northeast and mid-Atlantic regions? Warmer fall temperatures will be accompanied by rain and windstorms, predicts AccuWeather scientists, with severe weather in November expected for Albany down to New York City and northern Jersey.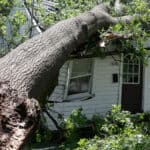 Hopefully, the most severe storms will weaken or blow out to sea before they cause us any trouble. But even storms of moderate intensity can threaten your trees — and the structures and people around them.
Wind, snow, and ice can snap trunks and branches. The ground saturation from heavy or sustained rainfall, particularly when coupled with high winds, can undermine a tree's stability. Sometimes, trees topple. And when the failed trees are large ones – trunk diameters in excess of 12" — there is significant risk of property damage and serious injury to humans and pets.
Why Trees Fail During Storms
A healthy, well-maintained tree is quite resilient in all sorts of conditions. But when it has been compromised by disease or structural deficiencies, stormy weather can cause real problems.
Poor Root System. A tree's stability depends on the depth and strength of its root system. As the tree grows taller and its crown becomes larger, the roots have to work harder to hold the tree in place. Since roughly 90% of a tree's roots are in the upper 18"-24" of soil, a poorly-developed, weak, or decayed root system can be severely compromised by even moderate amounts of ground saturation. That can cause the tree to lean, or (during high wind and/or rain events) to fall over completely.
Bad Form. A lopsided crown can cause a tree to lean to one side; a top-heavy crown puts undue stress on the lower trunk and root ball. A poorly-formed union of trunk and branches increases the likelihood that those limbs will fail during strong storms. These structural problems can be particularly troublesome for evergreens during storm season, since those issues adversely affect the trees' wind resistance. That's why all it can take is a strong gust of wind and soil saturation for some massive evergreen trees to be uprooted.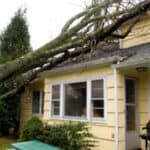 Decay. Decomposing trunk, branch, and root tissue has very little strength and is the most common contributor to tree failure.
How to Protect Your Trees from Storm Damage
All trees have the potential for some level of failure from the single or combined forces of wind, rain, snow, and ice. But good arboriculture practices will minimize injury to your trees.
Prune. Careful pruning by a certified arborist is one of the most important aspects of storm damage prevention. The proper trimming of an overgrown or unhealthy tree crown, the removal of dead/dying/diseased/decaying limbs, and the appropriate correction of poor trunk-branch unions, can restore structural integrity and wind resilience, and improve overall plant health.
Support. Tree-support systems such as cabling and bracing can be appropriate remedies for structural deficiencies and instability. When applied judiciously, and maintained correctly, these support systems can prevent the failure of a trunk or limb, extend the life of a mature tree, and provide added stability to newly-transplanted trees while they build supportive root systems.
Remove. Tree removal is sometimes necessary when decay, structural decline, or significant past storm damage makes a tree too dangerous to remain on your property.
Fortify. Keeping your tree healthy is the best defense against all the year-round challenges it faces. Appropriate watering and soil nutrition improves root growth and structure, making the tree more stable.
Now — before the storms hit — is the time to identify and correct potential hazards.
Selective pruning, cabling/bracing, and root nutrition can minimize winter damage, ensure the safety of humans, pets, and structures, and preserve the strength, shape and seasonal beauty of your trees.
By Kevin Myers, CTSP
When it comes to cleaning up after a big storm, arborist crews generally must be ready for anything. Any given service territory comes with its own unique weather patterns and predictions, but dealing with the unexpected should always be a part of the game plan.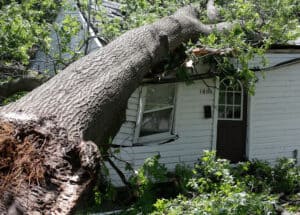 If your tree crews are working with utility companies, storm preparedness is especially important. Aside from worker and public safety, restoring power to customers is a top priority, and sending restoration workers – including arborists – to deal with fallen trees and large debris is part of that process. Outages cost utilities somewhere between $18 billion to $33 billion annually, according to the U.S. Department of Energy's Office of Electricity Delivery and Energy Reliability, so getting systems back up and running as soon as possible is an essential part of a utility's immediate response to weather-related outages.
With that in mind, a preparedness plan is critical. Safety and utility tree work have always gone hand in hand, but the stakes are that much higher when it comes to storm preparedness and recovery. So what does a good storm response and preparedness plan look like? And what kind of knowledge should arborists be equipped with when it comes to navigating severe weather in the field? Let's take a look at some of the essentials of a storm preparedness program, as well as some of the types of extreme weather that field crews may have to deal with under extraordinary circumstances.
The Golden Rule of storm readiness
One of the most effective tips when responding to storm damage is a simple one, but it might not always be the first one you think of. It's not training. It's not technique. And it's not having the right tools for the job. Those things are all critically important, of course, but the Golden Rule of storm readiness is this: Rest.
Think about it. When dealing with storm response and cleanup, hazards are far more plentiful than when performing other work under ordinary weather circumstances. The last thing any tree company wants is an exhausted crew out in the field, under-rested and over-stressed.
One common practice among Southern U.S. utility providers when dealing with the effects of hurricanes or tropical storms is to send responding crews home for a certain period of time before deploying them. The effect here is twofold: allowing workers to check in on their homes and families in the wake of a storm, and letting them get enough rest before going into the field so they can then focus on the work that must be completed. Some companies practice the "eight-hours-on, eight-hours-off" rule during protracted periods of storm restoration work, in order to ensure that all crews are rested throughout.
That particular method might not be feasible for every company under all circumstances. But it's important nevertheless to remember that a well-rested tree crew is far more likely to work safe and stay safe when working under more dangerous, storm-related circumstances.

Safety by storm type
The most obvious cause of power outages and needed tree-cleanup work tends to be large thunder-and-lightning storms. But the truth is there are many more dangerous weather patterns occurring throughout the United States that all tree crews should be familiar with.It's also true that when working in the wake of foul weather, more may be on the way – and tree crews must be prepared.
With that in mind, let's look at some essential field safety tips if you happen to find yourself contending with Mother Nature unexpectedly.
Lightning
Lightning strikes are one of the most dangerous aspects of a major thunderstorm and can occur up to 10 miles away from a storm itself. That means if you can hear thunder, there's a lightning risk, regardless of whether skies appear clear and the sun is shining. This is one of the most important things to remember when working during a storm's aftermath.
Warning signs include thunder claps, visible storm clouds and, of course, the telltale bright fl ashes of light in the sky. The most obvious way to stay safe if lightning abounds is to stay sheltered, but if you happen to find yourself in the field absent of any other form of shelter, returning to your vehicle is the safest bet.
Blizzards
During the winter months, thunderstorms turn to snowstorms and can lead to dangerous conditions in the field for tree crews.
Some overhanging branches that may not appear to pose a threat under ordinary circumstances may transform into hazards due to excess weight from heavy snowfall. Tree crews must take this excess weight into account when working around trees, which may also cause otherwise benign branches to fall onto power lines.
And while the snow itself won't hurt you, blizzard conditions can pose serious hazards when driving your vehicle in the field. Ensure an emergency kit is always stocked in work vehicles, along with blankets, extra clothing, flashlights, tow ropes, booster cables and distress flares.
Tornadoes
Tornadoes can appear faster than we might think. Their season is generally accepted as March through June, though tornadoes have been documented in all months. Know the warning signs: dark or green-colored skies; large, dark, low-lying clouds; and a persistently rotating cloud base.
Seeking underground shelter should be your first priority, but if you find yourself in a situation where this is impossible, seek low ground away from large objects or debris. This includes your vehicle, as well as other reasonably safe infrastructure. These objects can be obliterated by tornado-force winds, and the further your body is from them, the safer you are.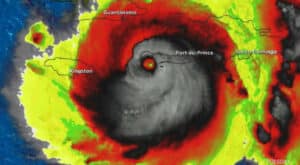 Hurricanes
The biggest hazard in a hurricane isn't necessarily the storm itself but the flying debris that these violent storms can kick up. While weather monitoring in states where hurricanes are frequent tends to be comprehensive – and no one is sending out tree crews as a hurricane approaches – it's still worthwhile to be able to identify the signs and know the safety measures.
Indicators of a hurricane include increases in wind speed, heavy escalating rains and raised ocean levels. Finding indoor shelter is the best way to stay safe, ideally with power to the structure turned off. And while the weather may appear to calm during the middle of the storm, it can get far worse very quickly.
Additional weather hazards
Storms themselves aren't the only natural hazard to watch out for in the field. Below are some additional things to stay prepared to encounter.
Flooding
Flooding is, in fact, one of the extreme weather events with the most fatalities, and can result as an aftereffect of major storms or prolonged heavy rains. An average of 81 people die each year as a result of flooding, according to statistics compiled by the National Weather Service.
Why such a high rate? It's easy to underestimate the threat of even light flooding. Consider that it takes just six inches of fl owing water to sweep someone off their feet. A flood fl owing at two feet deep can sweep away most vehicles.
When in the field, heavy rainfall is your first sign of a flood, but also keep an eye out for flowing water on normally dry land and rapidly rising water levels. If a flood is oncoming, avoid dips and valleys and get to higher ground as quickly as possible. Don't attempt to cross fl owing streams. And perhaps most important, don't attempt to drive through a flooded road, which can easily lead to a stalled vehicle and a dangerous situation for the driver.
Earthquakes
It's estimated that about half-a-million earthquakes occur around the world each year. While severity varies, Hazards abound when clearing storm-damaged trees.  Overhanging branches that may not appear to pose a threat under ordinary circumstances may transform into hazards due to excess weight from heavy snowfalls.  they can certainly pose a significant threat to outdoor crews. Earthquakes are not indicated by obvious visual signs such as dark clouds, but one tell tale sign is unusual changes in animal behavior. Wildlife can pick up on tremors and changes in electrical fields more so than humans.
If you find yourself caught in an earthquake, seek shelter under a stable object and grab onto something while the worst of the quake passes.
Landslides
Take notice when driving along embankments, which are particularly susceptible to landslides. Road signs will often be posted, but it's important for you to know what to look for, as well.
Take note of cracking tree sounds, boulders knocking together and other sounds that can indicate a rush of moving debris. Vacate the area immediately if you believe a landslide is oncoming. Flowing water changing from clear to muddy can be another indicator – landslides occur more commonly in river valleys and low-lying areas.
Conclusion
There is much more to comprehensive storm-preparedness planning – communicating cleanup plans to customers, equipment preparation, proactive vegetation management for utilities, monitoring and reporting and more – but one of the most important for everyday arborists is being able to identify some of the most threatening natural conditions that we face in the field.
Storms and hazardous conditions are simply part of the business for tree care workers. And it's our responsibility to be able to work smart and work safe.
Check Out the Latest TCIA Magazine Here!
Four years ago, Ron Linger of Ohio planted 100 blue spruce trees. Recently, he told WKBN news that his "trees weren't looking very good. A lot of the needles had dropped off the trees. Some of the tree's limbs are getting bare. And I noticed around the neighborhood some of the trees are completely bare."
If you, too, see yellow, brown or bare spots on your spruce trees, they may have the same fungus affecting, Ron's trees–Rhizosphaera needle cast. Learn more about what this fungus looks like, what it can do and how to control it.

Why are my spruce trees turning brown and dying?
Symptoms of Rhizosphaera Needle Cast Disease
Tree check: Most often, this fungus attacks spruce trees, especially Colorado blue spruce trees and Engelmann spruces. Click here for a more extensive tree list. And stressed trees are also more susceptible.
Then look for:
    
Yellow needles, typically on the lower branches, in mid-to-late summer
Formerly yellow needles turning brown to purple-brown during fall or winter
Brown needles beginning to fall, leaving large bare spots on trees that next summer or fall
Often starts at the bottom of the tree, on the inside, and works its way up the tree
If you think your tree is infected, look for small black spots lining the needles with a magnifying glass.
What does this do to spruce trees?
This is a very common fungus that affects trees after long stretches of wet weather or humidity.
Good news: You can control this fungus from doing too much damage. But, if left unchecked and untreated, this could eventually kill the tree.
Can you treat this blue spruce needle cast?
If some of your tree's needles or branches already have it, you can't reverse the damage. From here on out, it's about making sure the fungus doesn't continue spreading onto new growth. The fungus spores can be spread by water or wind to other branches or other nearby trees, and without providing protection, new growth will become infected, too.
Dan Yoho of Davey's Youngstown, Ohio office, sums it nicely, "Take out what's infected. Protect what's left. Move the healthy plants away if absolutely necessary."