By KEVIN FREKING for Claims Journal
The House on Wednesday overwhelmingly passed legislation that would provide $1.7 billion to help residents of the Carolinas and elsewhere recover from recent natural disasters.
The aid was added to legislation to keep Federal Aviation Administration programs running beyond month's end. The bill passed 398-23.
Lawmakers describe the disaster aid as a down payment. They say billions more will be needed in the months ahead to help communities devastated by Hurricane Florence.
Lawmakers are working to extend the FAA's programs for five years while tackling other priorities such as disaster relief. Lawmakers sought to address several concerns of the flying public in the bill. For example, it requires the FAA to set minimum requirements for seat width and legroom on airplanes to ensure that passengers could evacuate a plane quickly in an emergency. Lawmakers were also responding to complaints about cramped seating with the directive.
"Safety should not take a back seat, especially a shrunken seat, to airline profits," said Rep. Steve Cohen, D-Tenn., who sponsored the seat legislation.
Another provision would prohibit the involuntary bumping of passengers who have already boarded a plane, a response to the public outrage over a passenger who was dragged off a United Express flight last year when he refused to leave.
Lawmakers declined to include in the final bill a provision from Sen. Ed Markey, D-Mass., to ensure that fees airlines increasingly charge passengers are "reasonable and proportional to the costs of the services provided."
Airlines raised about $7.4 billion in fees last year, mostly through baggage fees and fees for changing their flight.
Markey said the consolidation among major airlines has reduced competition, and that has allowed the airlines to increasingly rely on fees to boost their profits without fear of losing customers.
"We know that when choice goes down, fees go up. And these sky-high fees bear almost no resemblance to the cost of the services being provided," Markey said.
Lawmakers also added to the legislation a bill giving the FBI and Homeland Security officials the authority to track and down drones deemed a "credible threat" to people or federal facilities. That's something Attorney General Jeff Sessions had sought. Sessions said drones promise to strengthen the U.S. economically but "can also be used to wreak havoc by criminals, terrorists and other bad actors."
Privacy advocates criticized the provision. Neema Singh Guliani, a lawyer for the American Civil Liberties Union, said it gives the government new power to spy on Americans without a warrant and to interfere with press freedom by restricting coverage using drones. The Electronic Frontier Foundation and a press-photographers group also oppose the measure.
The Senate must also pass the bill before it can be signed into law by the president. Lawmakers are racing to address a range of issues before the end of the fiscal year. If the Senate doesn't pass the bill before then, it will need to pass a short-term measure that would keep FAA programs going.
The bill also makes changes to Federal Emergency Management Agency programs by putting more money into such things as rebuilding levees and building seawalls before hurricanes hit so that the damage won't be as severe.
"This will save lives, save money, and bend the cost curve of disasters," said Rep. Bill Shuster, R-Pa., and chairman of the House Committee on Transportation and Infrastructure.
Lawmakers from South Carolina and North Carolina had urged Speaker Paul Ryan and Minority Leader Nancy Pelosi to provide some quick relief for the states as officials assess the full scope of the damage that has occurred. At least 47 deaths have been attributed to the storm. The lawmakers described the damage in a letter to Ryan and Pelosi. They said entire communities have been isolated because of flooding that was worse than any previous natural disaster in those states.
(Associated Press writer David Koenig in Dallas contributed to this report.)
Read the article on Claims Journal Here!
By Lucy Hook for Business Insurance
Claims transformation is being pushed to the top of insurers' agendas thanks to a changing marketplace, heightened customer expectations, and pressure to reduce costs, says Zurich's head of claims strategy.

Those three factors are driving a need for insurers to overhaul the way they approach claims, Alessandro Paoli said at the Uniglobal annual claims management conference in Hungary.

The market itself is "totally changing," according to Paoli, who said that there has been an overall reduction in the frequency of claims, but an increase in severity. That's thanks in part to technology, which has helped create more preventative measures and has made a wealth of data available to insurers to help them make better claims decisions.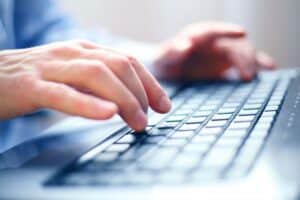 Customers too are completely changing in both habits and expectations, Paoli said, pointing to disruptive firms such as Amazon, Airbnb and Uber – all of which have had an impact on the way that customers transact and the way in which they want to interact with service providers.

The pressure of profitability is also squeezing insurers.

"I've seen in the last few years that there is a lot more pressure on the underwriting profitability, and a lot more pressure on cost, now that we can't rely on such a high investment income," Paoli said.

As a result, many carriers are – or should be – looking to implement change in their claims departments.

"Transforming claims can help a company to be more agile, more efficient, and more customer-centric," Paoli, who heads up claims strategy, development and delivery, said.

However, he admitted that change is not always easy. Alongside the potential of facing resistance from within the company, change programs may face hurdles or not reach their full potential, he said.

The key for insurers is to focus on gradual change, brought in "little by little," and to keep people at the centre of the process.

"Don't think this is just an IT implementation, or that it's just about developing a new software: it's a new way of working," Paoli said. "Try to transform your business in stages. Don't think that you are going to transform a huge company in one quarter."


Related stories:
Chief risk officer at Zurich warns of "ecological Armageddon"
Former Zurich exec makes switch to Thomas Miller as COO
By Ian Gray, BCMA, CTSP
During my first week of work, in September 2016, as the new City Arborist in Claremont, California, my supervisor handed me some material about an invasive pest called the polyphagous shot hole borer (PSHB). The more I read and the more I investigated, the more alarmed I became. It also rang some bells – I was sure I had read previously about this tiny ambrosia beetle. And there it was – TCI Magazine, June 2015 ("Bugged Out West – California Grapples with Two New Borers" by Phil Meeks).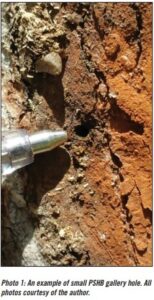 My first foray into the public sector as an urban forester was ultimately consumed with a desperate search to find some way of containing this invasive pest from southeast Asia. The city of Claremont prides itself on being "the City of Trees and Ph.D.'s," so doing nothing and simply cutting down trees as they succumbed was not an option.
My report here is both a cautionary tale pertaining to the destructive potential of this insect and a snapshot of the skill set required in diagnosing an invasive insect problem and implementing a city-wide program for the protection of the urban forest. The efforts undertaken in Claremont ultimately formed the basis of a case study I used in a graduate thesis for Oregon State University.
Historical review
PSHB was first identified in the United States in the Whittier Narrows in Los Angeles in 2003 on black locust trees (Eskalen, 2013). A subsequent outbreak in 2010 in Long Beach on box elder trees was the early indicator that there was a problem, and research began in earnest in 2012 when PSHB appeared in avocado trees (ibid.). It is widely accepted that the beetle entered the Port of Los Angeles in wooden packing material or shipping pallets (ucanr. edu). Invasive species are a persistent problem despite inspection efforts and ISPM No. 15 – the International Standards for Phytosanitary Management (Haack et al, 2014). This will be an ongoing challenge as global trade continues its seemingly relentless expansion. The emerald ash borer (EAB) is thought to have landed in Detroit, Michigan, in a similar fashion. PSHB is now widely established in the Southern California coastal area from the Mexican border to San Luis Obispo, Calif., covering eight counties (ucisr.edu).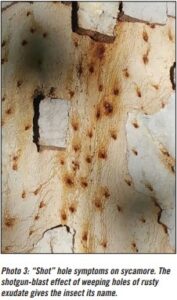 By the numbers
The list of tree species attacked is staggering and additions will continue. As of 2016, more than 304 tree species had been attacked and 138 species had been successfully colonized by the Fusarium dieback fungus, covering 64 families of trees (Eskalen, 2017). Fusarium is a symbiotic fungus carried by the beetle on its exoskeleton and mouth parts that inoculates the woody tissue of the gallery walls and is left to propagate as a food source for the beetles. The number of "reproductive host" species – trees conducive for both insect reproduction and propagation of the fungus – currently stands at 49, of which 19 are California natives (eskalenlab.ucr.edu).
PSHB's threat complexity
Before going any further, it is worth going through some of the reasons why this insect is such a threat. The numbers listed (above) speak for themselves and underline why PSHB has emerged as such a formidable challenge. Consider the following:
• Unlike many invasive or problem insects, it does not restrict itself to one species or closely related species because it does not eat the wood for food – it only uses the tree for reproductive habitat and fungal food propagation.
• It is not attracted by tree stress or poor tree health and seems to go after the healthiest medium-to-large specimens – the fungal symbiosis somehow helps direct this decision.
• Attractants generally do not seem to have any effect on the insect – aggregating pheromones are not useful controls.
• At 0.1 inch, the beetle is tiny, making it diffi cult to identify – entry/exit holes are barely the size of the tip a ballpoint pen.
• Symptoms present very differently by tree species – the shotgun-blast effect of weeping holes of rusty exudate that gives the insect its name is distinct in a sycamore but very different from the amber gummosis on Koelreuteria, for example.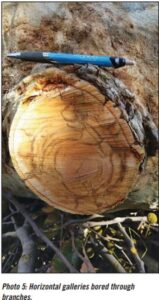 • Unlike EAB, mountain pine beetle (MPB) or eucalyptus borers, for example, which quickly girdle the tree with cambial boring during gallery formation, PSHB bores deeply into the sapwood to establish horizontal galleries – trees die slowly as the fungus gradually plugs vascular tissues, blocking water and nutrient transport.
• That same deep boring can cause structural tree failures – because even heartwood is penetrated by the boring, and tree-top and whole branch failures can occur even when the tree is still green with healthy leaves.
• Initial infestations are not obvious but populations can explode – the insect's reproductive cycle takes as little as five weeks, with each mated female producing 20 to 50 offspring on 4:1 female to male ratio (if one assumes a conservative 15 mated females per gallery, five broods during a season would result in more than 700,000 insects!). • Targeted treatments are challenged by the limited time the insects spend exposed outside the tree – brothers and sisters mate with each other inside the tree with the mated female merely coming out of the original hole and moving a short distance to bore straight back into the tree.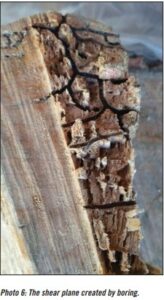 • Many municipalities have moved away from pesticide and fungicide use in recent years in a bid to reduce environmental impacts from chemicals and negative public perceptions surrounding their use.
• As with any new invasive insect, there was little consensus as to what was the best way to deal with the problem – what treatments would work and what research was available to back up those arguments.
• Money, money, money – many cities are only just emerging from the great recession, and municipal budgets are still crippled with little to spare for expensive and unproven treatment programs.
• Despite the emerging problem, PSHB never received a "Class A" invasive pest rating, which would have unlocked federal funding for research – that funding has been a patchwork of agriculture industry grants (avocado growers), Cal Fire, USFS and state research institutions.
• Removal and disposal-only programs run the risk of "facilitated transportation" of the beetles and the fungus – PSHB can remain active in logs and woody debris for many weeks after tree removal, and the risk of contamination of areas near improperly disposed of woody debris is high.
• Not knowing where PSHB would stop in terms of species attacked poses deep challenges for reforestation efforts – which trees are suitable for street, ROW and park planting efforts?
The Claremont strategy
In Claremont, hotspots of PSHB were quickly identified in September and October of 2016 in three city parks, and seven heavily infested trees were removed. After consulting with local plant healthcare companies and researchers, an initial round of treatments was undertaken on a select number of sycamores in the affected areas to gain some degree of containment.
This entailed trunk sprays with insecticides and fungicides as well as basal drenches. The downside to this application method is concern over possible environmental contamination due to spray drift and leaching. Trunk sprays also need to be repeated at least three times a year to remain effective.
As further data and research was reviewed, treatment pricing was compared and application methods were assessed, it was decided that trunk injections with emamectin benzoate and propicanizole was preferable. Despite the high product cost of the insecticide, the residual effectiveness claimed for one application was two years and the method entailed minimal environmental contamination. The remaining hurdle was the "sales pitch" to the city council. This was the end point to focused stakeholder outreach where various community organizations were brought up to speed. City commissions and tree committees were necessarily involved as a critical part of the civic process and educational outreach.
By mid-January 2017, after an expedited request-for-proposals period with customized specifications for the chosen application method of trunk injections, a contractor was chosen and the Claremont City Council approved an emergency allocation of roughly $250,000. More than 2,000 trees greater than 12 inches DBH would be treated, primarily sycamores, live oaks and a handful of Koelreuterias. By the time the treatment program was underway, a further five trees were removed and PSHB had been found in four more city parks – this was primarily a function of the difficulty and lag time in identification.
PSHB was known to have been present in the city from at least 2014, when it was first noticed in Rancho Santa Anna Botanical Gardens, private property but within city limits. Sycamores were the favorite target of PSHB and this is refl ected elsewhere in the greater Los Angeles area. The reasoning is that the beetles find trees with thinner bark easier to penetrate. To name but a few, willow, alder, box elder, elm, maple, sweet gum and palo verde are favorites. The big threat from PSHB for the urban forest in Claremont was the high proportion of mature, specimen coast live oaks and sycamores.
Implications for arborists & plant health-care professionals
Urban forests are by definition the sum of both privately and publicly owned trees. In that context it is hard to communicate the complexity of the challenge posed by PSHB to the preservation of those trees in terms of arborist expertise. Containment efforts should always follow best management practices and integrated pest-management protocols. This starts with a determination of what constitutes an "acceptable" level of plant damage or insect population threshold.
The problem with PSHB is that once it gets a foothold, there is also a risk management issue since the boring activity weakens the structural integrity of trees attacked. Heavily infested trees may pose a risk to tree-climber safety due to reduced wood strength. A report circulating in California attributes an arborist fatality in 2016 in Southern California to a structural tree failure as a result of PSHB boring.
Because consensus over definitions of infestation level as well as efficacy of treatment is still elusive, arborist expertise and judgment is paramount. Understanding the pros and cons of not only various application methods but the chemicals involved is critical. How that is communicated to the stakeholder and balanced against their available funds and risk tolerance is the next crucial step. Because PSHB is such a recent problem, there are few guarantees.
The cost of doing nothing preventative is extreme, but removal costs alone could cripple the budgets of smaller cities should PSHB continue unchecked. Orange County Parks and UC Irvine, for example, have already had to remove thousands of trees, and millions more in the greater Los Angeles area are at risk with values in the billions of dollars. It is worth pointing out that in a recent study on efforts to protect urban forests from EAB (trunk injection technology has good data from field trials here), the ratio of total costs to cumulative benefi ts from resulting overall urban forest canopy were found to be two-thirds lower when trees were saved as opposed to being removed and replaced (Sadof et al, 2017).
The City of Claremont opted to try to gain a degree of containment on the problem. Recent monitoring of treated areas indicates that PSHB populations in previously affected trees has been slowed but not eliminated. Many treated trees not previously attacked still appear free of insect activity. However, not only will the treatments need to be repeated every two years, but whilst PSHB activity had previously been concentrated in city parks, there are indications that the insect is beginning to radiate out to untreated street trees and trees on private property. The City is considering a further round of treatment for the next DBH size class down and continues to recommend that private-property owners treat specimen trees preventatively.
Also under consideration is anecdotal evidence that ArborFos treatments for anthracnose in sycamore trees may have a deterrent effect on PHSB attacks. However, until biological controls are found, PSHB will, in all likelihood, continue to devastate a wide range of unprotected urban tree species in the Southern California coastal areas. There is also a clear risk that southwestern states, the Gulf Coast states and southeastern states could be suitable habitat for PSHB.
For more information about PSHB, go to pshb.org or eskalenlab.ucr.edu or cisr.ucr.edu.
References
Eskalen, A. et al. 2012. "First report of Fusarium sp. and its vector tea shot hole borer (Euwallacea fornicatus) causing Fusarium dieback in avocado in California." Plant Disease. Vol. 9697/1070.
Eskalen, A., Stouthammer, S.C. Lynch, P. Rugman-Jones, M. Twizeyama, A. Gonzalez, T. Thibault. 2013. "Host Range of Fusarium Dieback and its Ambrosia Beetle (Coleoptera: Scolytinae) Vector in Southern California." Plant Disease. 99:7, 938-951.
Haack, R.A., K.O. Britton, E.G. Brockerhoff, J.F. Cavey, L.J. Garrett, et al. 2014. "Effectiveness of the International Phytosanitary Standard ISPM No. 15 on Reducing Wood Borer Infestation Rates in Wood Packaging Material Entering the United States." PLoS ONE. 9(5):e96611. DOI:10.1371/journal.pone009661
Kabashima, J. 2017. "Update on Urban Landscape Management of Invasive Shot Hole Borers." Presentation Paper from CAPCA Continuing Education Workshop, January 26, 2017. Temecula CA.
Sadof, C.S., G.P. Hughes, A.R. White, D.J. Peterson, M.D. Ginzel. 2017. "Tools for Staging and Managing Emerald Ash Borer in the Urban Forest." Arboriculture & Urban Forestry. 43(11): January.
http://www.cisr.ucr.edu "Polyphagous Shot Hole Borer."
http://www.eskalenlab.ucr.edu. "PSHB Reproductive Host List."
Have a claim with a PSHB problem?  Check out our Arborist Inspections to see how HMI can help!
By Brian K. Sullivan | November 28, 2017
This year's U.S. Atlantic hurricane season is officially the most expensive ever, racking up $202.6 billion in damages since the formal start on June 1.
The costs tallied by disaster modelers Chuck Watson and Mark Johnson surpass anything they've seen in previous years. That shouldn't come as a complete surprise: In late August, Hurricane Harvey slammed into the Gulf Coast, wreaking havoc upon the heart of America's energy sector. Then Irma struck Florida, devastating the Caribbean islands on the way. Hurricane Maria followed shortly after, wiping out power to all of Puerto Rico. And the season's not over yet: It officially ends on Nov. 30.
"Given our infrastructure today, the question is: Was 2017 unusual? I think we answered that pretty well," said Watson, a modeler at Enki Research. "2017 wins no matter what you do. At one point I was working disasters in Asia, Central America, the U.S., and Ireland. It felt like I had jet lag even though I never left the office."
As this devastating season draws to a close, here are a few statistics that show the extraordinary strength of this year's storms:
The season delivered 17 named storms, 10 of which became hurricanes that altogether killed hundreds across the Atlantic basin. While 2005 still holds the record, with 28 storms, the intensity and dangerous paths of this year's tropical systems caught even seasoned forecasters off guard. For the first time in records, three Category 4 storms hit U.S. shores, with Hurricane Harvey becoming the first major hurricane to slam the country since 2005. Harvey also set a new tropical rainfall record with just over 60 inches (152 centimeters) in Texas, according Michael Bell, a professor of atmospheric science at Colorado State University.
Hurricane Irma, which bowled over the Florida Keys in September before threatening Tampa, set a record by maintaining Category 5 strength for 37 hours. That broke the old mark of 24 hours set by Typhoon Haiyan, Bell said. Accumulated cyclone energy, a measure of storm power and longevity, also set a record in September, according to the U.S. National Hurricane Center. Worldwide, storms caused $369.6 billion of damage, the second-most costly year since 1960.
This hurricane season is "in the top 10 in most of the metrics we use to measure hurricane activity," Bell said.
And we haven't even mentioned Ophelia, a "crazy storm" that maintained hurricane strength within 12 hours of nearing Ireland, said Jeff Masters, co-founder of Weather Underground in Ann Arbor, Michigan. It was the worst tropical system to threaten Ireland since 1961.
A construction boom along U.S. shores in recent years acted as a damage multiplier this year, when nature threw its worst at beach homes, waterfront resorts, power grids and Gulf Coast refineries.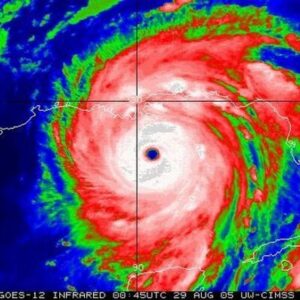 Watson's storm costs are based on physical damages, clean-up expenses and lost business activity that isn't recovered within a year. To account for buildings, homes and factories that weren't around 150 years ago, his models look at storms dating back to 1871 in the U.S. and 1960 globally, and project the damages they would inflict had they occurred today.
If every hurricane that hit the U.S. in 1893 were to strike now, the cost would be $185.6 billion.
The U.S. hasn't been the only country feel the pain this year. Typhoons and hurricanes struck countries including China and Japan, Watson said. The totals are a testament to the damage storms that hit major cities can do.
"Megacities such as New York City, Houston, or Miami in the U.S., Tokyo in Japan, or the incredible dense infrastructure around Hong Kong in China, are susceptible to a single event causing in excess of $100 billion in damages," Watson and Johnson, a professor of statistics at the University of Central Florida, wrote in a study.
To see the original article, please look here for more information:  Check It Out Here!
BY MIKE OWEN
Right about now you may be wondering: "If a tree falls and hits my house, am I covered by insurance?"
Especially: "What if it's my neighbor's tree?"
Or: "My tree and my neighbor's house?"
Most homeowner insurance policies are fairly straightforward, says the Insurance Information Institute (III). If a tree hits your house or other covered structure on your property, standard policies generally provide coverage for the damage the tree inflicts.
It also is irrelevant whether or not you own the tree, the III says. If it hits your house, you can file a claim with your insurance company. Now, if the tree was on a neighbor's property, your insurer may try to collect some damages from the neighbor's insurance company, but that's between them.
This often happens if the neighbor's tree was in poor health or poorly maintained.
If the fallen tree hit your house or other covered structure, the company will usually pay to have it removed, generally up to $500 or $1,000, depending on the policy. But if the tree just lands in your yard and doesn't hit any structures, you may not be covered for removing the debris. Exceptions, the III says, are usually if the tree is blocking a driveway or handicapped ramp.
Standard homeowner policies cover damage to trees and shrubs due to fire, lightning, explosions, theft, aircraft, vehicles not owned by the resident, vandalism and malicious mischief, the III says.
But coverage for these types of things is generally limited to up to 5 percent of the amount of insurance on the structure of the house. Generally, most insurers will limit the coverage to about $500 for any one tree, shrub or plant.
These are generalities that will usually apply to standard homeowner policies, the III says. Contact your insurance company immediately so it can send an adjuster out to assess the situation and answer your specific questions.
Access the Article from Ledger-Enquirer HERE!
Excerpt from www.claimsjournal.com article
"10 Subrogation Mistakes Insurance Companies Keep Making"
by Gary Wickert
July 6, 2017
"(3) THE PARABLE OF THE PEBBLES: Lack of Timely/Thorough Subrogation Investigation
Whether a claim is large or small – the burden is the same. The subrogated carrier has the burden of proving: (1) that the defendant was negligent (or that a product was defective); (2) that this negligence proximately caused the damages which the carrier paid for; and (3) the amount and nature of those damages. If it fails with regard to any one of these elements, there will be no subrogation recovery. Liability carriers are quick to latch on to weaknesses in subrogation files and often deny claims simply because the demand letter doesn't address these three elements satisfactorily. Like a chain, a subrogation claim is only as strong as its weakest link and that weakest link is almost always created early in the claim, when memories are fresh and evidence is available. The first few days after a loss are critical – the first and often only chance anyone may have to identify, retain, document, investigate, and record valuable information on which a future subrogation lawsuit will depend. Things which may seem to have little or no meaning or importance may turn out to be the lynchpin of an entire subrogation action. An ancient parable is relevant here and goes something like this:
A group of traveling nomads was preparing to make camp for the evening, when suddenly they were surrounded by a great light. They knew instantly they were in the presence of a celestial being. A loud voice spoke from the heavens, "Gather as many pebbles as you can. Put them in your saddle bags. Travel a day's journey. Tomorrow night you will be both glad and sad." Then, as quickly as it had appeared, the voice and the light disappeared. The nomads looked at one another in disbelief. They had expected the revelation of a great universal truth – the key to great wealth or happiness. But instead, they were given a menial task that made no sense. Dejected, each one did pick up a few pebbles and put them in their saddle bags. The following morning they broke camp and traveled a day's journey. That evening, while making camp once again, they reached into their saddle bags and discovered that the few pebbles they had gathered the night before had turned into beautiful and brilliant diamonds! Indeed, they were both glad and sad, just as the voice had promised. They were glad they now had beautiful and valuable diamonds. But, they were very sad they had not gathered and filled their saddlebags with pebbles when they had the opportunity.
Subrogation investigation is much like the opportunity the nomads had to gather pebbles. You don't know which pebbles might turn out to be valuable, so you conduct your investigation promptly as though they are all valuable. It is important to lock witnesses into positions and testimony favorable to your subrogation case, before the other side gets a hold of them. It is sometimes urgent and legally necessary to place government entities on notice of your claim. Early and thorough investigation often uncovers additional third parties and sources of recovery, including the occasional existence of other insurance which may be available to contribute to the loss.
Some cases are virtually worthless – even with the best of liability facts – unless some investigation and preservation of evidence is undertaken almost immediately. Premises liability cases involving slip and falls, ice and snow, or dangerous conditions on property require some sort of preservation or recording of the conditions existing at the time of the fall. Such cases depend entirely on whether the condition was "unreasonably dangerous" and "open and obvious." In most cases, relying on the claimant's or insured's memory in order to meet our burden of proof guts such files of virtually all value. Cases involving livestock which escape a fenced-in area and wander onto a busy highway almost always require the subrogated carrier to prove that the livestock owner was negligent. This means proving in court that a broken fence or gate that wasn't repaired or other negligence on the part of the owner caused the accident. This type of evidence can only be preserved at or near the time of the loss and before repairs or spoliation take place.
If a product is involved in a subrogation claim, it is our burden to prove a defect or that there was negligence by a third party in maintaining the product. We also have to prove that the condition of the product was unchanged at the time of the injury or damage from the date it was manufactured. These are impossible burdens to meet if the product is not preserved and the chain of custody is not carefully documented and protected. When an appliance which causes a fire is still under warranty and the repair technician (often an "authorized service company") takes the appliance or the faulty part, this evidence is often misplaced in the shuffle. Sometimes we are able to argue spoliation by the manufacturer, but it much easier and cheaper to simply preserve the part.
When the cause of a loss seems apparent, don't stop with simply securing only the product or evidence bearing most directly on the case. Bear in mind that the targets of your investigation will almost always find alternate causes and persons to blame and will quickly cry spoliation if evidence, which they claim may exonerate them, is gone or damaged. Think like the defendant. Take efforts to disprove and eliminate the alternate theories your subrogation counsel will ultimately face. If the claim is significant, engage subrogation counsel or an investigator to conduct the investigation and take thorough statements of all witnesses and, if called for, timely engage experts who are qualified and experienced. The extra work of properly investigating a claim often deters claims handlers from stuffing their saddlebags full of pebbles, but every case is different, and it is often the pebble you leave behind that turns out to hold the key to a full recovery. The pebbles might not turn into brilliant diamonds as in the parable, but they literally can and often do translate into subrogation dollars realized.
Even in inspecting the loss, the client (and sometimes even the expert) doesn't keep any of the evidence. This is especially true when insurance clients try to cut corners by not having an expert out to the loss scene, but instead rely on plumbers or technicians to tell them what failed. The plumbers or technicians may uncover what failed, but they are not qualified to testify to that in court. Unless they preserve the product and other possible suspects the defendant is sure to blame the loss on, an expert retained at a later date will not be able to offer an opinion and the case will be rendered worthless.
Spoliation – the defense that a party to a suit has somehow damaged or lost evidence which is crucial to the defense of a case – is becoming a very popular claim today, even if it doesn't exist. Creative theories which blame products located across the room from a point of origin are frequently used to create doubt in the mind of jurors – often with great success.
Investigate cases early and thoroughly. Choose the right expert and insist on reports which pinpoint a cause and an origin of a fire or a water loss. Ben Franklin's aphorism, "An ounce of prevention is worth a pound of cure" is very accurate when it comes to describing the value of investing early in subrogation potential. Kicking the can down the road frequently leads to significant recovery potential being lost or seriously compromised. As Ayn Rand famously said, "We can ignore reality, but we cannot ignore the consequences of ignoring reality."
To read the full article, please click here.